27 - 30 July 2017
The four days of the congress will offer you an ideal opportunity to approach key decision makers, who may be prospective customers. The congress fair is organised on the second floor where the majority of the participants will gather and network right after they leave the lectures and workshops for a break and food.
Stand out from the crowd and attract new customers thanks to the congress fair. The exhibitors will enjoy the same benefits as the congress delegates and their exposure within the congress is guaranteed.
Prices
Stand fee include the following


Booth A
1 800 €
Booth B
3 600 €

Table
Chair
Power socket
Spotlight
Area in m2
Floor
Free exhibitors´ registration

1
3
1
2
6
2
2

2
4
2
4
12
2
3
The booths in the Congress Fair includes a basic shell scheme construction.
More features can be added to your exhibit space, such as carpeting, lighting or more furniture, to be arranged through the vendor service company C-IN. The organisers will provide a security guard to secure the exhibition area after congress hours. Parking is subject to a charge. Wi-Fi is provided to the participants only, in the Congress Fair on the 2nd floor.
Links to your website and contact information will be published in the Programme and on the congress website.
 
Floor plan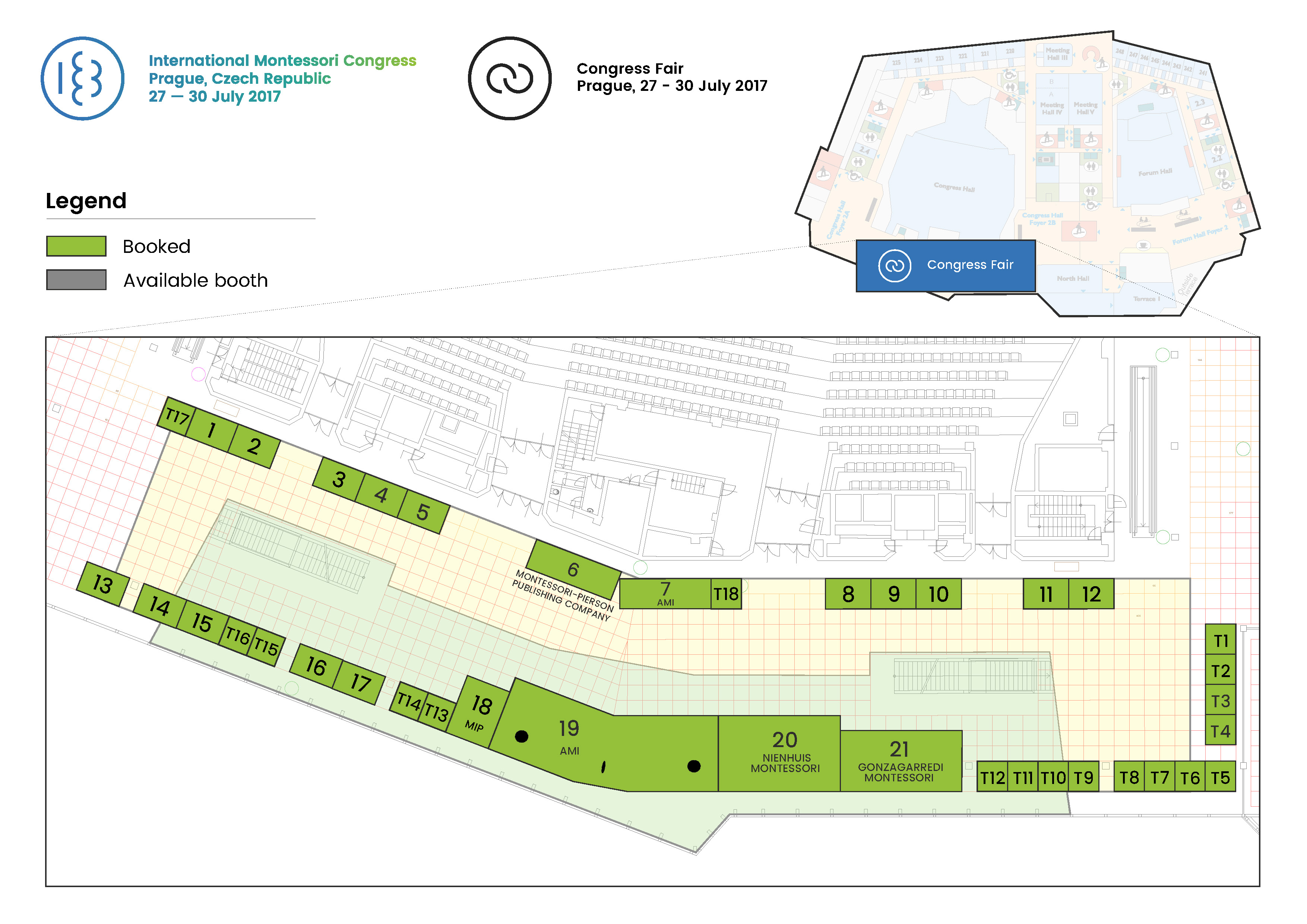 Confirmed Exhibitors
Booth nr.

Company


1+2
3
4
5
6
7
8
9
10
11
12
13
14
15
16
17
18
19
20
21

T1
T2
T3
T4
T7
T8
T9
T10
T11+T12

Topic Educational
Higher Ground Education
Transparent Classroom
Hands-on-Prints
Montessori-Pierson Publishing Company
Matsumotto
Montessori Raritäten
Dacart Montessori
How We Learn Group
Wildflower Schools
Montessori Compass
OSKOLA
Montessori Downunder
Leader Joy Montessori USA

Dusyma
MIP
AMI
Nienhuis Montessori
Gonzagarredi Montessori

Maria Montessori Institute
AMI China Affiliate
Montessori Europe
Montessori Germany
Shenzhen Peninsula Montessori
AMI/USA
NAMTA
The Norwegian Montessori Society
AMS
Click here for list of Congress Exhibitors including their logos and websites.

SEE THE FLOOR PLANS
See the floor plans (2nd Floor, Ground Floor) and the list of reserved plans and choose the exhibition area.

COMPLETE AND SUBMIT BOOKING FORM
To secure your participation, please fill in the Order Form and send it back to us with your logo in Curves Format. Booth allocation is organised on a first signed, first served basis.

ORDER STAND CONSTRUCTION AND EQUIPMENT

Stand construction and stand equipment is to be ordered separately. Use this form and send to exhibition@montessoricongress2017.org.



ORDERING FORMS AND MANUALS
CONTACT

Ms. Jana Dvorakova
Sponsorship and Exhibition Manager
E-mail: jana.dvorakova@c-in.eu
Mob: + 420 777 791 252